Moxa Season is NOVEMBER: Don't let this one pass you by.
"Moxa", short for Moxibustion,
is one easy way to supplant Chi into the body. The Herb, Ai Ye/Artemisia (Mugwort leaf) is the material that is ignited, like a cigar or stick of incense, and this particular form of Heat (moxa) adds Chi to the Body.   November is MOXA SEASON.
There are so many way to do Moxa these days. But let me just cut through all the options to share with you my favorites. I love receiving Moxa Treatment in my practitioner's office as a kick-start to the season (around November 1st) and I also keep up that treatment with Moxa Packs through the whole month.
Moxa deeply warms the body as we transition to Fall and Winter.
During the November interval of that transition, the "life gate" is open and we can take full advantage of this sensitive time of year by bolstering our Chi Body and Wei Chi/Immune System. Illness is said to invade the body more deeply if one contracts an illness during this time and Moxa protects the deep body from pathogens gaining access to the deepest layers of our beings. Moxa deeply penetrates into the Ming Men Gate, or Life Gate, which is wide open for 2 weeks but it begins to open a week before and is not fully closed for the week after. That is why we include the entire month of November as "The Moxa Season". Moxa done during Moxa Season allows us to gain ground that could easily be lost if we were to become ill, at this time.
During Moxa Season; if you have an infrared sauna, you can use the benefits of this method too, , but if you do not have access to a sauna, Moxa, which is easily acquired by your friendly neighborhood Acupuncturist, will do the job equally as well.
Steps you can take for this Moxa Season:
Make an appointment for Moxa Season Treatment.
Buy a packet of Moxa Packs from your Acupuncturist. Order them NOW!! Here is what they look like: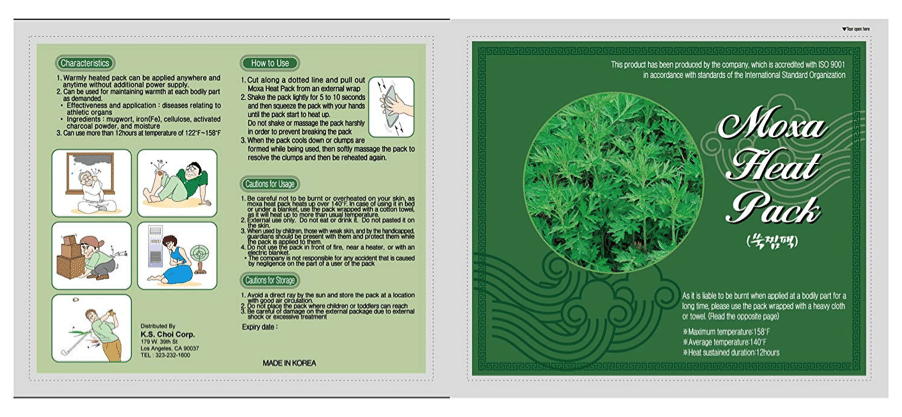 These Packs can be worn on your back, at the waist, for up to 8 hours if you are feeling good. They can get too hot, just like any heat source and burn you, so pay attention and do what is right for you. They may make you thirsty, so drink plenty of water! And make sure you rest your back for at least 16 hours before re-applying the next time. These Packs run on Oxygen, so if you use it for 2 hours and want a break, put the pack in a large glass jar with a lid and EXTINGUISH the Moxa Pack, to save its heating and healing benefits till you are ready to use it again. Be sure to use it at least 2 hours a day for the entire Month of November.
You can do Moxa on yourself if you have Moxa sticks. And you can buy these from your Acupuncturist along with being given your Point Prescription of what points to heat. This is a great method, but it takes time to perform this practice daily.
Book an Appointment at the Start of the Moxa Season so you can STRENGTHEN your Wei Chi,
Protect Your Kidney Yang Chi and
Stay Healthy and Strong throughout this Autumn and Winter.
1, 2, 3
Gan Bei (Cheers) to your Health!!
Refill sources for Supplements and Herbs
Therese Walsh-Van Keuren's Wellness Store
Three Pots of Tea
The collective wisdom and perspective of three women who have been studying and practicing acupuncture and herbal medicine for over 20 years each. We have consumed countless pots of tea as we compared notes, case studies, and furthered our education in our commitment to grow as practitioners and help our patients reclaim their health and vitality.  
Kathleen Port, L.Ac. West Los Angeles  
Kia Sinay, L.Ac. Manhattan Beach
Therese Walsh-Van Keuren, PhD, L.Ac, Los Gatos